Eli had a wonderful birthday! I still can't believe that he is 5. That seems like such a big age, probably because I know that he will be starting kindergarten this year and I am definitely not ready for that. Since his birthday was on a Wednesday he was able to celebrate at school! He got to take cookies to school and he was excited about that. Of course we had to take ninja turtle cookies. :-) He has a blast at school, like always, and came home with a birthday crown! After lunch Eli got to open up the present he got from school and then we let him open up a present from us. Mike had found an old Ninja Turtle game for the game cube at a used game store. Eli was super excited about it and even more excited when we told the boys they got to go upstairs with daddy and play it before rest time!
We celebrated with all the daycare kids and had cookies for snack. We had been talking about Eli's birthday for several weeks and the daycare kids were just as excited about, plus they had all seen the cookies. :-)
After all the daycare kids left Eli was able to open his presents. He got quite a few presents from us but besides the main present everything else was pretty small and inexpensive. His main gift was the Skylanders video game. We had not planned on getting that for him because we thought 5 was too young for a video game. We had even told him that you had to be 6 to get it. We found a version for the IPad that you could actually use the guys for and had gotten that. But the more we thought about it it seemed silly to get the IPad version that was only a few $ less when we knew he would be wanting the real game in a year. So we decided to get the game for him and we are just going to limit how much he plays it. It isn't going to be an everyday game. He was very happy about all of his presents but he was SOOOOOO excited when he opened up his game! I am so glad that I was able to video tape his reaction! He of course wanted to play it right away! So they got to play it while I got dinner ready. After dinner we sang happy birthday and all had cupcakes! It was such a wonderful day for our 5 year old!
Happy 5th Birthday Elijah Kent!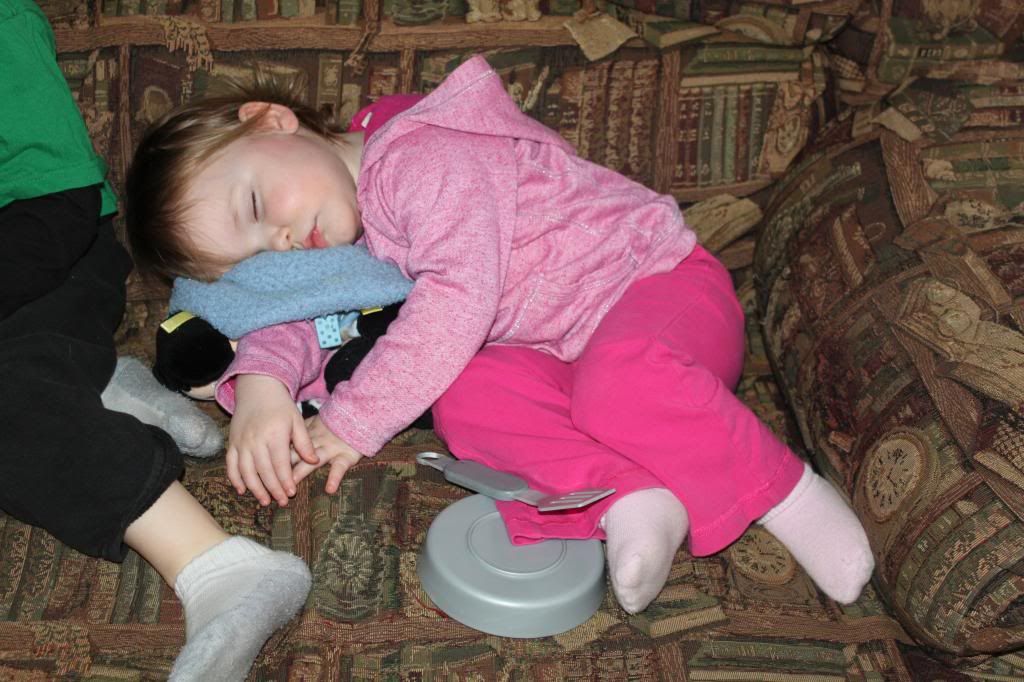 Isabel was up early and fell asleep on the chair :-)
Birthday crown from school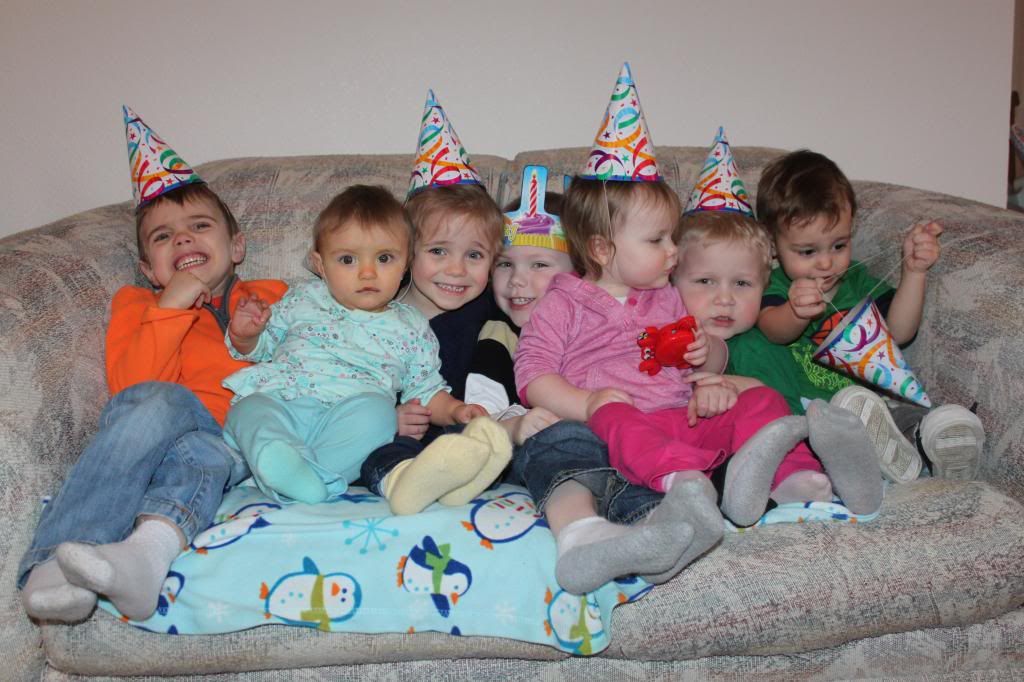 All the daycare kids, it is not easy to get a good picture of 7 kids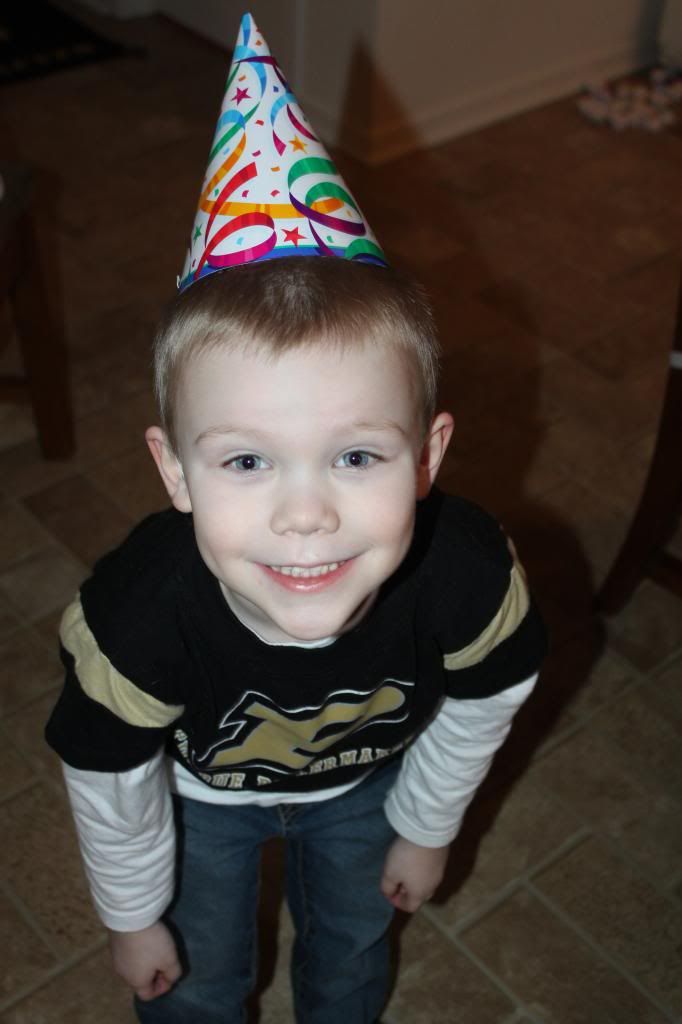 Birthday boy!
All his presents!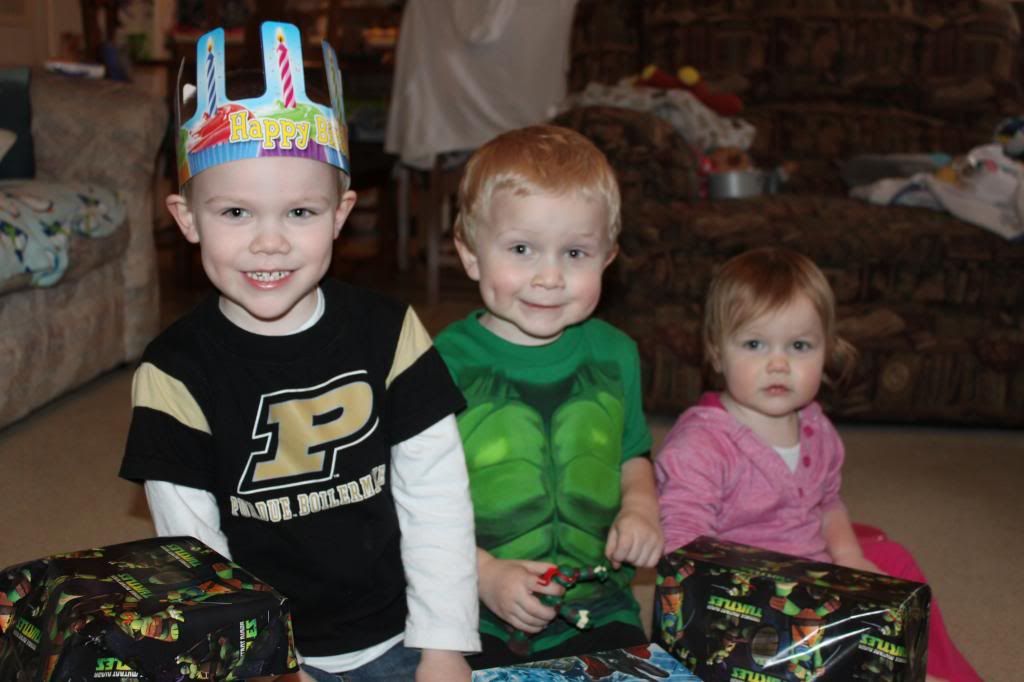 :-)
Reading the birthday card with daddy
He was pretty excited about Dog Pound!
This was the one thing he had really been asking for, The Kraang
A new basketball that is a little lighter and will be good to shoot outside!
Thumpback and Eye Brawl!! These had just come out and were so hard to find. Mike just happened to be checking a store as the UPS guy was dropping off the shipment for the day and their was 1 of each in the box!


He was so surprised!
And so happy!
The smile says it all!
And so it begins
With his cupcake!
:-)